Modern Style Matt Black Lacquer Wooden Kitchen Cabinet with Island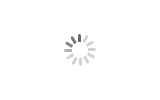 Modern Style Matt Black Lacquer Wooden Kitchen Cabinet with Island
HANSE

Foshan, Guangdong, China

Shipped in 20 - 45 days after payment

150000 Sets / Year
Matte black kitchen cabinets brings a touch of luxury that is rarely found with any other color of cabinet. They create a space that speaks boldly and grabs the attention of anyone that has never experienced it. Along with the stunning beauty of our silk-finish matte black kitchen cabinets, they are also resistant to scratching and fingerprints. Your cabinets will be easy to maintain and keep beautiful with year after year of use.
Lacquer kitchen cabinets with island
Lacquer kitchen cabinets are a popular choice for modern kitchens, offering a sleek and stylish look that is both durable and easy to maintain. The cabinets are made from a combination of wood and lacquer, with the lacquer providing a glossy and smooth finish that resists scuffs, scratches, and moisture. The cabinets come in a variety of colors and styles, so you can choose one that fits your kitchen's aesthetic. With proper care, lacquer kitchen cabinets can last for many years, making them an ideal choice for those who want to invest in quality cabinets that will stand the test of time.



Hanse projects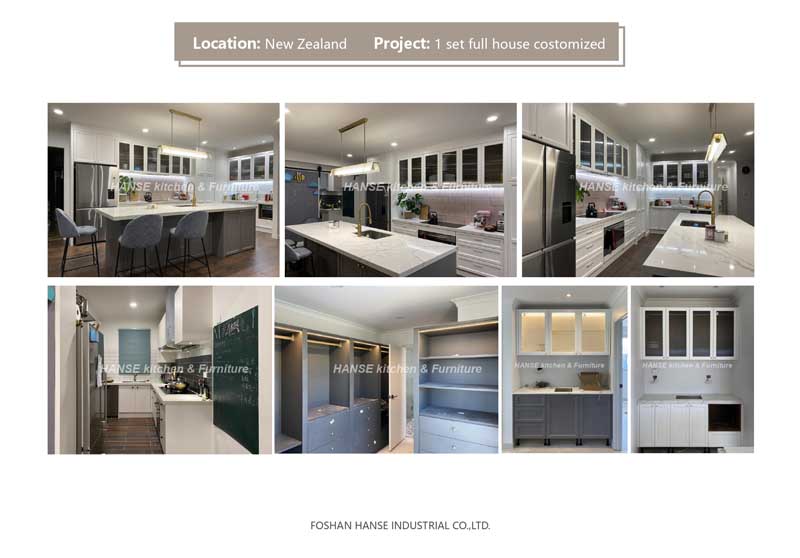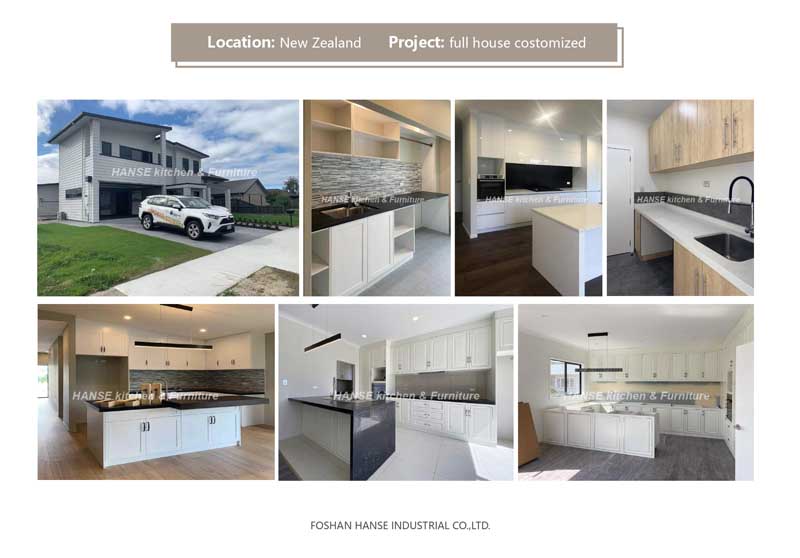 Product Type
Kitchen Cabinet
Color
White, Black, Gray, Red, Yellow, Blue, Green or

Cuztomized

Size & Design

Cuztomized Size & CAD / 3D Design

Carcase Material
Solid Wood / Particle Board / Plywood / MDF / Aluminum / Stainless Steel
Carcase Thickness
18mm / Optional
Carcase Color
White or

Cuztomized

Color
Door Material
Solid wood / MDF / Plywood / Particle board / Glass / Aluminum / Stainless Steel
Door Finish

Acrylic / Lacquer / UV / PVC / Melamine / Solid Wood / Aluminum / Stainless Steel

Door Thickness
18~22mm
Countertop
Granite, Marble, Quartz, Artificial Stone or Customized
Hardware
Blum, DTC, etc
Features

1. Free and Professional Design, quick quote ;

3. Kinds of Materials / Finishes / Colors Choices;


4. Customized Style and Detail Notice to Give You A Dream Kitchen;


5. Water Proof and Environment Friendly Boards;


6. Stable Quality and Rich Experience in Oversea Projects.

About Hanse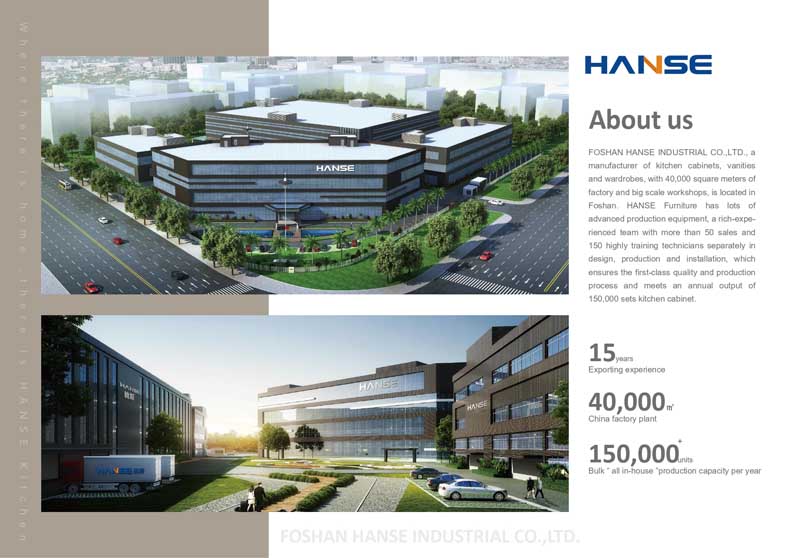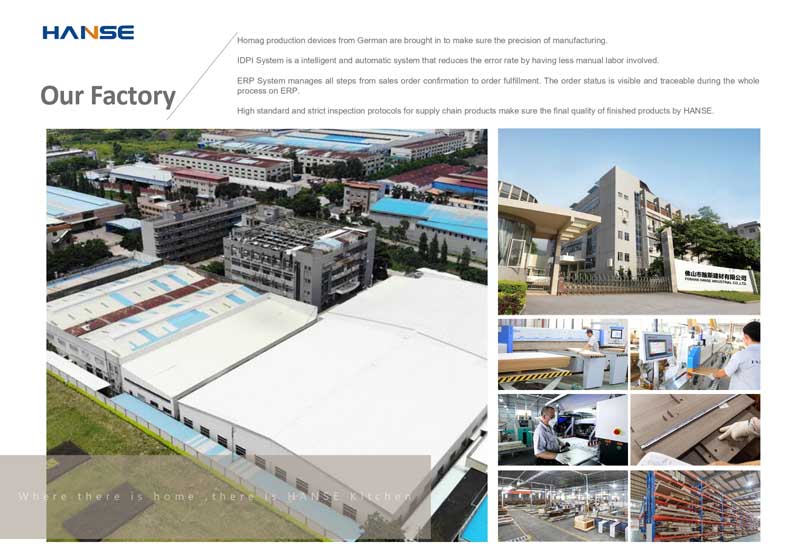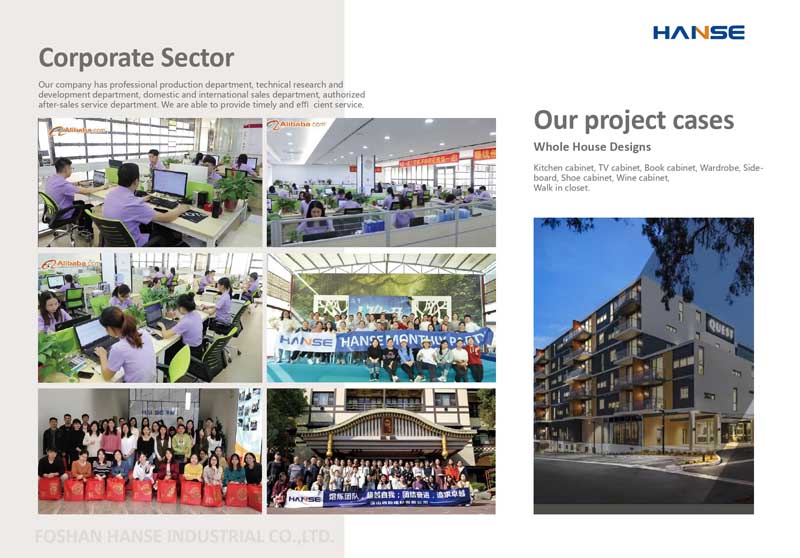 FAQs:
1. How to insulate under kitchen cabinets?
To insulate under kitchen cabinets:
First, clean the area under the cabinets with a vacuum and remove any dust, dirt, and debris.
Next, use an insulation board to line the underside of the cabinets. Cut the board to fit the space, and use adhesive or a nail gun to secure the insulation.
Finally, seal any gaps or openings between the insulation board and the cabinets with caulk.
How to paint above kitchen cabinets?
The painting above kitchen cabinets is a relatively simple process that can be completed in a few steps.
1. Prepare the area. Remove all items from the tops of the cabinets and pull out any drawers and shelves. Cover the countertops and backsplash with plastic or drop cloths.
2. Clean the cabinets. Using a damp cloth, gently wipe down the surface to remove any dirt or dust.
3. Sand the cabinets. Use fine-grit sandpaper to lightly sand the cabinets, focusing on any areas that may have chipped or cracked paint.
4. Prime the cabinets. Use a quality primer, such as a latex-based product, to cover the cabinets and ensure that the paint adheres properly.
5. Paint the cabinets. Use a brush and roller to apply the paint evenly. Allow the first coat to dry completely before applying a second coat.
6. Add a top coat. Once the paint has fully dried, apply a top coat of clear sealer to protect the paint and seal the surface.